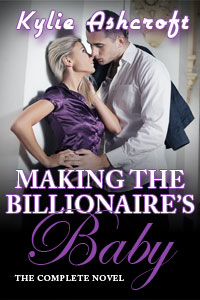 Synopsis
Available together for the first time, this is the complete "Making the Billionaire's Baby" series, all six parts in one novel.
Shannon is broke, having a hard time getting over her ex and his hot booty calls, and stuck working a dead-end temp job. On her second day at work, she catches the billionaire CEO's eye and he invites her to his office. His proposition to impregnate her and adopt the baby with his infertile wife seems crazy at first until she realizes how much he's willing to pay her for it.
As Shannon becomes more entwined with the billionaire Marcus and his glamorous life, she realizes more is on the line that just the pregnancy and the money. As she starts falling in love with him and wondering if he feels the same, Shannon's world is torn apart by unwanted fame, jealousy, greed, and Marcus's secrets. Can she survive her deal with the billionaire, or will she regret it for the rest of her life?