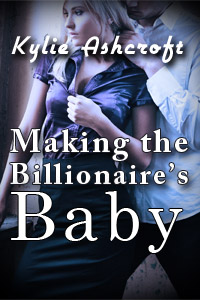 Synopsis
Shannon is broke, having a hard time getting over her ex and his hot booty calls and stuck working a dead-end temp job. On her second day at work, she catches the billionaire CEO's eye and he invites her to his office. His proposition to impregnate her and adopt the baby with his infertile wife seems crazy at first, until she realizes how much he's willing to pay her for it! Will Shannon push her inhibitions aside to pay off her debt and allow the sexy billionaire to seduce her?
This 11,000 word story is for adults only. It contains a booty call, oral sex (blow jobs and cunnilingus), female masturbation, hot MF sex, and attempted impregnation with a sexy billionaire.
Excerpt
"Should we set some ground rules?"

I shrugged. "What do you mean?" Suddenly images of ball gags and handcuffs flashed through my mind, but I pushed those thoughts away.

"Is there anything off limits? Anything you'd rather we not…do together?"

I wasn't sure if he was blushing, but there was something adorable and bashful about him in that moment. "Um, no, I think I'll be ok with whatever it takes to get the job done." I looked away now, feeling a bit weird that we were talking like this. For some reason, I didn't expect there to be this much talking involved. "How about you?"

He shook his head. "Do you want to talk more?"

"No, I think we've had enough of this weird conversation."

He laughed and suddenly I felt much more at ease, like this strange tension between us finally dissolved and we were just two people sitting together.

Marcus quickly gulped down the rest of his champagne, so I downed mine as well. He took both flutes from me and set them aside, coming back and standing in front of me.

I reached to unbutton my shirt, but he stopped me by lightly pressing his hand against mine, the touch making my stomach flip. His hand rose to my neck, caressing my cheek with his thumb.

"Don't rush. Let's enjoy this."

I was surprised by this sudden turn of events. My imaginings of a rough, quick and dirty fuck were thrown out the window as he lowered me back onto the bed, positioning himself over me.

"This is your last chance to back out." His voice was soft, maybe even a little afraid.

"I signed the contract. I'm ready."

He smiled. "All business. You're a girl after my own heart."

Marcus lowered himself down and kissed me.
This story is part of the "Making the Billionaire's Baby" series:
Making the Billionaire's Baby
Try, Try Again
Without His Embrace
The Other Woman
The Unraveling
The Final Secrets

Select your favorite retailer to buy and download this story instantly:
Download this story: