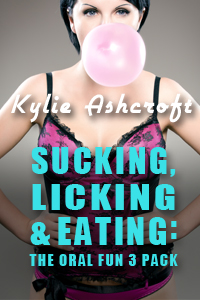 Synopsis
This erotica bundle contains over 13,000 words of hot and steamy oral sex stories!
Late Night Oral Report
July is hot and there's a drought. For Morgan, it's more than just the lack of rain outside. She's stuck watching the office during a blackout until the night guard arrives. Expecting to spend the night alone, her cocky floor lead Charlie shows up unexpectedly. When Charlie makes an indecent proposal, suddenly the heat around her isn't just because the AC is out of commission. Will she give into her desires or let the storm pass?
This story includes graphic descriptions of sex in public, oral sex (cunnilingus and blow job) and hot M/F sex all over Clara's desk.
Storage Whores
In this parody of a popular reality TV show, the bidders have more on the line than just scoring a good locker. Mandi sees a box of nick-nacks that she needs to buy to complete her collection, but when her husband loses the bid to their rival Clive, is she willing to do whatever he wants to get it and risk getting caught while they make the exchange?
This story contains a doggie style quickie, infidelity, and a very dirty blow job with a facial in a public place.
Midnight Snack
Marissa's sex life went kaput when her older husband started taking sleeping pills. Left wanting and hungry, she looks for some satisfaction in her kitchen. As she tries to find a release, she discovers her 18-year-old neighbor watching her through the window and realizes he has the same hunger as she. Will they give in to the temptation to satisfy each other's desires or go to bed hungry?
This story contains voyeurism, masturbation, food play, oral sex (blow job and cunnilingus) between a sexy cougar and the teenager next door plus whipped cream and indecent acts with a cucumber!

Select your favorite retailer to buy and download this story instantly:
Download this story: