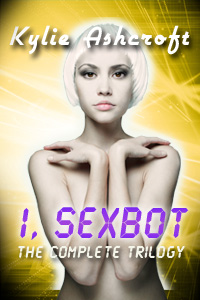 Synopsis
Published together for the first time, this is the complete "I, Sexbot" trilogy.
When Rebecca wakes up, she can't remember anything. Soon her fragmented mind pieces together that she's a robot—reprogrammed by her owner to be a sexbot. With new firmware and hardware updates she's ready to service her owner's every wish. But as time passes she experiences other lovers, first through secret trysts with their neighbor Carl and then with her owner's girlfriend. When Rebecca discovers life as a sexbot isn't as fulfilling as she wants it to be, she dares to runaway and venture to the city where she discovers the true meaning of sexuality.
This 14,000 word compilation is intended for adults only. It includes oral sex (blow jobs and cunnilingus), first time sex, lesbian sex, male masturbation and voyeurism, all with a fully functional sexbot.