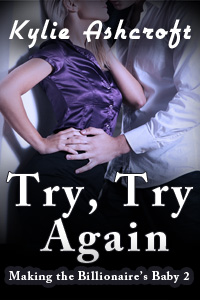 Synopsis
In this sequel to "
Making the Billionaire's Baby
," Shannon is disappointed that she's not pregnant yet, but she and Marcus haven't given up. Their secret encounters to fulfill the contract are getting riskier, and when the billionaire whisks her away for the weekend, Shannon realizes there might be more on the line than just the pregnancy and the money. An intimate encounter at the lake has her questioning everything, and when Marcus has to cut the weekend short, she wonders what the mysterious billionaire may be hiding.
This 14,000 word short story contains explicit material, including sexual situations, and is intended for adults only.
Excerpt
"Well, we're alone now." He leaned forward, one of his hands lightly grasping my hip. His touch flashed through me like electricity, making my stomach flip.

"What is this?" I asked, pulling away, pretending to be interested in the construction. I was nervous again. Being with Marcus was so intimidating and I felt unprepared. Plus things were a little weird. How was one supposed to act when you have a secret contract that allows a billionaire to impregnate you?

He folded his arms over his chest. I could see the definition of his arms through the sleeves of his shirt. "We recently bought this floor. They've gutted it and we're remodeling. Soon it'll be filled with cubicles."

"How dreamy," I said with a smirk.

"Well, truth be told, I only did it to impress you." His green eyes glittered as he grabbed me suddenly.

It was unexpectedly playful and affectionate and it caught me off guard. Pressed against his warm chest I felt my body melting to puddy. I didn't realize how much I missed him and now that I was in his arms I just wanted to stay there, letting him hold me.

"You only have 30 minutes for lunch, so we better get started."

"Romantic." I raised an eyebrow and the billionaire laughed before tilting my chin up with the tip of his finger and kissing me. Gently he pulled me into the custodian closet.

The space was big enough for both of us to stand comfortably. There were empty shelves against one wall and an industrial sink on the other. A single bare bulb flickered lightly above. Though we were alone on the floor, he closed the door, turning around and almost bumping into me. He laughed lightly and then wrapped his arms around me.

Our mouths met like hungry lovers reunited after years of separation. Though we were safely hidden away, I was getting hot over the idea of getting caught. Anyone could come by and hear us in here.

Marcus' hands roamed my body as if he couldn't remember me and needed to reacquaint himself with every inch of flesh. His mouth nibbled on my neck as he fumbled to unbutton my silk blouse. Each teasing bite ignited the wanting inside me.
This story is part of the "Making the Billionaire's Baby" series:
Making the Billionaire's Baby
Try, Try Again
Without His Embrace
The Other Woman
The Unraveling
The Final Secrets

Select your favorite retailer to buy and download this story instantly:
Download this story: