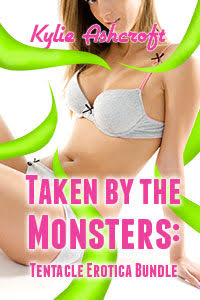 Synopsis
This hot and steamy bundle contains three of the sexiest tentacle tales from Kylie Ashcroft. Immerse yourself in worlds of fantasy and pleasure with these three stories:
Bred by the Space Monster
In the year 3487, Mag is an up-and-comer in the lightspeed shipping service, moving goods across space with efficiency. When a blockade captures the ship delivering vaccines to the planet Kuzcar, Mag must risk flying through the territory of the dreaded alien monster Gwel to make it to Kuzcar and save her sister before the planet is overtaken by a plague. When her ship encounters the monster, instead of destroying the ship, he overtakes it, his tentacles finding her inside. What surprises her most is what the tentacles want, and how much she likes it! This short story is for adults only and features double penetration, bondage, impregnation and hot tentacle on human action in space!