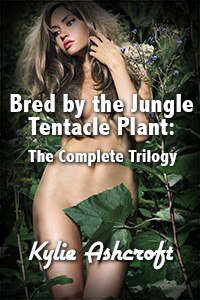 Synopsis
Released together for the first time, this is the complete trilogy of "Bred by the Jungle Tentacle Plant" including "
Bred by the Jungle Tentacle Plant
" "
Breeding in Paradise
" and "
The Final Breeding
".
Dr. Elizabeth Morrel is exploring the rainforest in search of the rare ontalya plant, which may be the cure for cancer. When she finally discovers it after months of searching, she's suddenly overtaken by unexpected horniness. As she seeks relief, Elizabeth realizes the ontalya is more than just a plant, but actually an alien creature looking to breed with her. Will Elizabeth help the creature with its sexy plan or try to escape its grasp and abandon her research?
This 25,000 word compilation is for adults only. It includes explicit descriptions of female masturbation, oral sex (cunnilingus and blow jobs), public sex, impregnation, double penetration and hot tentacle sex with an endangered alien vine plant.
Excerpt
She felt something on her ankle, slithering slowly over her pants leg. She started kicking at it with her boot, assuming it was a snake. But when she sat up, the slender green thing that was attempting to crawl up her leg was much too long to be a snake—in fact, its tail stretched back, up the tree and joined the mysterious vine. It was the vine.

Elizabeth tried to scoot away, but the vine was faster, quickly wrapping its way around her ankle and holding her in place. This part of the vine wasn't as thick as what wrapped around the tree, but it was strong and she couldn't kick it away. She looked around for her bag, but it was out of reach lying near the base of the tree, so going for her knife wasn't an option.

Another thin vine slinked along the grass towards her, slowly entwining her other foot. Elizabeth sat up, attacking the vine with her jagged, engrossed fingernails. Her scratches did nothing to scare away this strange plant. She laid back down in disbelief. What was she supposed to do? Even in her panic, she wasn't that scared, the only emotion that flowed through her body was the intense wanting her masturbation could not satisfy.

Before she could react, she felt a light tickle on each of her wrists, and then her arms were yanked over her head by two other vines that appeared from the other direction of the forest. Elizabeth snapped her head around, looking for any more of these strange vines.

Select your favorite retailer to buy and download this story instantly:
Download this story: