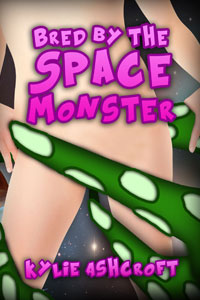 Synopsis
In the year 3487, Mag is an up-and-comer in the lightspeed shipping service, moving goods across space with efficiency. When a blockade captures the ship delivering vaccines to the planet Kuzcar, Mag must risk flying through the territory of the dreaded alien monster Gwel to make it to Kuzcar and save her sister before the planet is overtaken by a plague. When her ship encounters the monster, instead of destroying the ship, he overtakes it, his tentacles finding her inside. What surprises her most is what the tentacles want, and how much she likes it!
This 3100 word short story is for adults only and features double penetration, bondage, impregnation, and hot tentacle on human action in space!
Excerpt
Mag drew her knees into her chest, forming a floating ball in the darkness. If the monster was inside, then the ship was breached, meaning the oxygen was slowly draining out. Soon she would be unconscious and then it would all be over. She just had to wait.

Something flicked past her foot, a fleeting ticklish touch, then wrapped around her ankle. What she expected to be cold and slimy was warm and smooth. Mag tried to twist out of its grasp, but the grip was firm. She pulled her legs tighter against her chest, closing her eyes even though she couldn't see anything in the darkness.

Suddenly she felt something slither over her shoulder, wrapping down under her armpit and around her arm. The tentacle on her ankle and the one holding her arm pulled in opposite directions, straightening out her body. The maneuver wasn't violent, it was gentle and firm. Still, her heart pounded. Mag expected her death to be in a ball of fire as Gwel destroyed her ship. This—well, she didn't know what to make of this. A slow torture? Did the monster plan to eat her? Or do something much, much worse?

One of the lights flickered on above, glowing steady for a moment before flickering into a hypnotic strobe. She saw a thicker tentacle floating towards her, eerily unreal in the light. It was as thick as her lower arm, tapering off into a point at the tip. The sides were dotted with light green spots that stood out against the dark green skin.

It hovered for a moment in front of her face, as if it was looking at her with unseen eyes. Mag held her breath, waiting for what would come next. Slowly it reached for her face, the smoothness caressing down her cheek and against her neck. She closed her eyes. Something about it was comforting: it felt nice, almost sensual.

From her neck, the tentacle hooked into the collar of her suit and with a sudden movement ripped it cleanly from her body. Mag jumped with surprise as the thick tentacle wrapped itself around her midsection, the end curling over her belly.

Select your favorite retailer to buy and download this story instantly:
Download this story: