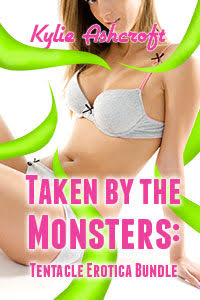 Synopsis
This hot and steamy bundle contains three of the sexiest tentacle tales from Kylie Ashcroft. Immerse yourself in worlds of fantasy and pleasure with these three stories:
Bred by the Space Monster
In the year 3487, Mag is an up-and-comer in the lightspeed shipping service, moving goods across space with efficiency. When a blockade captures the ship delivering vaccines to the planet Kuzcar, Mag must risk flying through the territory of the dreaded alien monster Gwel to make it to Kuzcar and save her sister before the planet is overtaken by a plague. When her ship encounters the monster, instead of destroying the ship, he overtakes it, his tentacles finding her inside. What surprises her most is what the tentacles want, and how much she likes it! This short story is for adults only and features double penetration, bondage, impregnation and hot tentacle on human action in space!
Punished by Professor Tentacle
Maggie Cross is a freshman at her dream college, but a bad grade threatens her academic scholarship. When she asks Professor Gallagher for extra credit, he refuses until she offers him a sexy proposition. The professor wants to teach her a lesson and she's ready to learn! But, what Maggie expects to be a sweaty night of spanking and fun with her sexy professor turns out to be a night she'll never forget when she discovers what is hiding under his argyle sweaters. This short story is for adults only. It contains sexy scenes of spanking, BDSM, oral sex, double penetration and hot unexpected tentacle sex with an older professor. All characters are 18 years of age or older.
Taken by the Sea Monster's Tentacles
Dr. Kendra Hackett is three months into her assignment on the deep sea lab Aequor 1. She misses life above the surface, especially spending her nights with a sexy guy. One day, her boring lab job gets a lot more interesting when she discovers an unknown creature.
As she examines the creature, it starts to grow and quickly becomes interested in her. What starts as panic quickly becomes curiosity when Kendra realizes the creature is feeding off her energy and its tentacles are capable of stimulating unimaginable pleasure. Kendra is stuck wondering if she should fight for her life and the integrity of her experiments or give in to the sea monster. This sexy short story is intended for adult readers only and contains explicit content. It includes hot monster sex with a tentacle creature, including bondage, double penetration, and female masturbation.
All of the stories include explicit content meant for adult readers only!

Select your favorite retailer to buy and download this story instantly:
Download this story: