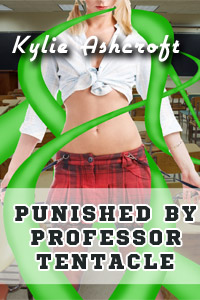 Synopsis
Maggie Cross is a freshman at her dream college, but a bad grade threatens her academic scholarship. When she asks Professor Gallagher for extra credit, he refuses until she offers him a sexy proposition. The professor wants to teach her a lesson and she's ready to learn! But, what Maggie expects to be a sweaty night of spanking and fun with her sexy professor turns out to be a night she'll never forget when she discovers what is hiding under his argyle sweaters.
This 5000 word short story is for adults only. It contains sexy scenes of spanking, BDSM, oral sex, double penetration and hot unexpected tentacle sex with an older professor.
All characters are 18 years of age or older.
Excerpt
He turned his back to her, frantically unbuttoning his shirt. His voice was breathy and angry: "You're a bad, bad girl Maggie."

She sucked in her breath, closing her eyes and resting her forehead against the cool wood of the professor's desk. She was so turned on she couldn't stand it. So far this night was exceeding her expectations. Never did she think a dirty spanking would be so hot, but she loved it and she hoped there would be more.

"I have a surprise for you, Maggie."

She felt him come up behind her and started to push herself up when she felt his hand on her neck, pushing her back down.

"Ah, ah, ah," he chided.

Maggie stared down at the desk, the woodgrain blurring in front of her. What was he planning? She felt something warm and wet slide past her cheek and then a strange and sweet smell tickled her nose. Something slender and green flicked near the corner of her eye and then whatever was wriggling on her cheek disappeared.

"What are you doing?" Maggie said, trying not to sound afraid, but she was a little worried. Then suddenly she felt really relaxed, light headed and happy.

"Teaching you a lesson."

Select your favorite retailer to buy and download this story instantly:
Download this story: