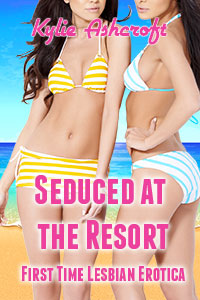 Synopsis
Tanya thought her girls' trip to Jamaica would be a good time to relax and enjoy the beach. But when Heather tags along on the trip, Tanya doesn't know what to think. Heather is gorgeous and attracts the attention of every guy she sees, but she's a lesbian. As the ladies enjoy fruity drinks at a dance party, Tanya realizes Heather is flirting with her. Will Tanya give in to her new desires and spend a sexy night with Heather in paradise?
This 7300 word short story is for adults only and contains explicit language, including hot first time lesbian sex, cunnilingus, and bi-curious explorations.
Excerpt
"Come here." Heather patted the comforter next to her.

I crossed the room, going past her to the sliding door. Out the window, I could see hotel rooms lit up in the tower across from us. Beyond that lights glittered from the dance party on the beach. I pulled the curtain closed then joined Heather on the bed.

"So," she said, leaning in. "I'm guessing you've never kissed a girl before."

I blushed as she pushed my hair back, revealing my shoulder.

"I, um, I'm straight."

Heather giggled and kicked her shoes off before crawling up onto her knees in front of me. "I've been told that by other women before. But somehow they always end up in my bed."

She kissed my shoulder, soft and slow as she grasped my upper arms gently and kept me close to her. Her lips traced across my shoulder and up my neck as her fingers slipped the straps of my dress off my shoulder. I closed my eyes, hypnotized by the sensual tickling of her mouth on my neck. I could feel the wanting growing between my legs. Nibbling on my neck was such a turn on. I exhaled to keep myself from moaning, letting my fingers tangle in Heather's soft hair. It felt so good.

Select your favorite retailer to buy and download this story instantly:
Download this story: