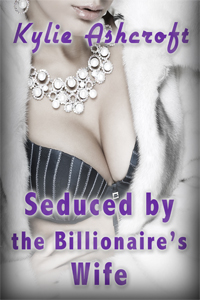 Synopsis
When billionaire CEO Carlton Harris wants to meet with lowly office temp Nancy Ross, she suspects his motives are impure. What really surprises her is that he wants her to sleep with his wife, and he'll pay her for it! Nancy needs the cash, but she's never been with a woman before. When she meets the billionaire's sexy wife Gwen, Nancy is intrigued by her confidence and experience but is unsure about her own feelings. Will she let the billionaire's wife seduce her or let this opportunity for experimentation pass?
This 6200 word short story is for adults only. It contains bi-curious exploration, first time lesbian sex, oral sex (cunnilingus), and fun with a vibrating strap on!
Excerpt
"So you work at Carl's company?" Gwen asked.

"Not really. I'm just a temp. The assignment was only for a week."

"Of course. And do you have a girlfriend?"

"Oh, no. I uh, I've never been with a woman before."

Gwen laughed out loud, startling Nancy. "That's wonderful. And what about your boyfriend? Is he jealous that you're here?"

I shook my head. "No boyfriend."

"Good. Men always–" her eyes rolled towards the ceiling as she searched for the words, "–complicate things."

I just nodded, unsure of what to say.

Gwen came up onto her knees, the fur falling apart a bit, revealing a hint of black lace panties. She crawled slowly across the bed towards me. I looked at the ground, my heart pounding as I realized this was really happening.

"You seem tense," Gwen said as she came up on her knees behind me. Her hands were soft and warm as she started massaging my shoulders. "Relax," she whispered in my ear.

Her breath sent a shiver down my spine. I closed my eyes, trying to focus on the gentle kneading of her hands.

"There we go." Gwen's voice was soft and low. "Just like that." Her fingers tickled up my neck, stroking away the stress and the worry, then slid into my hair, pulling out the clip, letting my tresses topple over my shoulders.

Gwen brushed my hair out of the way and lightly kissed my neck below my ear. I could smell her perfume, an intoxicating scent of pears and flowers.

"I'll make you feel like a real woman," she whispered.
This story is part of The Billionaire's Wife trilogy:
Seduced by the Billionaire's Wife
Seducing the Billionaire's Wife
Doing Her Bidding

Select your favorite retailer to buy and download this story instantly:
Download this story: