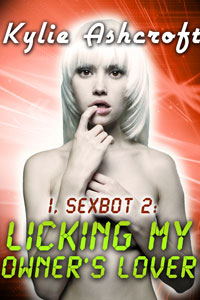 Synopsis
In this sequel to "
I, Sexbot
," Rebecca's owner surprises her by bringing over his new girlfriend. Rhonda wants to sleep with the sexbot, and Rebecca is curious to find out what it's like to love a woman. Will Rebecca and Nathan learn to accept another woman into their relationship, or will tension and jealousy tear them apart?
This 4800 word short story is for adults only. It features hot lesbian sex, male masturbation and voyeurism with a fully functional sexbot!
Excerpt
"Oh Nate, she's too adorable." Rhonda stepped closer to me, lightly grabbing the edge of my negligee and running her fingers over the fur trim. "It's been awhile since I've been with a woman. You know how they get—" She glanced back at Nathan and rolled her eyes. "—So over dramatic. It's so hard to find a girl just to have fun with, you know."

"Rebecca is a lot of fun."

"Has she been with a woman before?"

"No, but I programmed her for every taboo known to man. And she follows commands. Anything you want."

Rhonda turned back to me, reaching up and stroking my hair. "She's so beautiful. Are you sure you don't mind sharing her, Nate?"

"Tonight, she's all yours." Nathan took a seat in the chair sitting in front of the unused vanity across from the bed.

"How generous."

When Rhonda smiled, she met the general standard of beauty as my electronic mind understood. We were about the same height and when I stole a glance of us in the mirror, we looked very similar, almost like sisters. The only difference was her hair was much more bleached than mine, and nearly four times as long.

Rhonda ran her thumb lightly over my cheek, pulling me into a kiss. Her lips were soft and moist and she kissed me lightly before pulling away. "My god," she whispered, "she feels like the real thing."

"She feels real everywhere." Nathan leaned forward, resting his elbows on his knees.
This story is part of the I, Sexbot series:
I, Sexbot
I, Sexbot 2: Licking my Owner's Lover
I, Sexbot 3: A Pleasurebot of My Own

Select your favorite retailer to buy and download this story instantly:
Download this story: