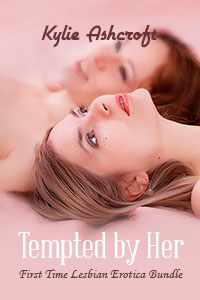 Synopsis
This steamy bundle collects three of the hottest tales of bi-curious women exploring their naughtiest fantasies. Each is a stand alone short story of first time lesbian encounters.
Seduced at the Resort
Tanya thought her girls' trip to Jamaica would be a good time to relax and enjoy the beach. But when Heather tags along on the trip, Tanya doesn't know what to think. Heather is gorgeous and attracts the attention of every guy she sees, but she's a lesbian. As the ladies enjoy fruity drinks at a dance party, Tanya realizes Heather is flirting with her. Will Tanya give in to her new desires and spend a sexy night with Heather in paradise?
Seduced by my Bi Roommate
Just a few months after her new, wild roommate moved in, Taylor is annoyed by Missy's messiness and her endless string of new lovers. But when Missy brings home a new woman, Taylor realizes there may be other feelings lurking there. When Taylor ends up kissing her roommate, she questions what her new feelings mean and whether she's willing to go further with Missy.
Seduced at the Spa
Mel is overwhelmed by work and stress when she agrees to a spa day with her openly bi-sexual friend Kandi. After their massage, they decide to spend some time in the sauna. While they relax, Kandi suggests Mel let her inhibitions go and try dating women for once. Before Mel realizes what's happening, her best friend is putting the moves on her. Will Mel try something new or let her assumptions get in the way of a truly relaxing spa trip?
All of the stories include explicit content meant for adult readers only!

Select your favorite retailer to buy and download this story instantly:
Download this story: