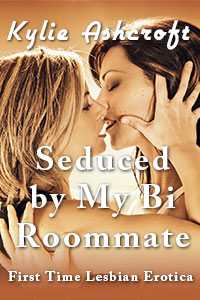 Synopsis
Just a few months after her new, wild roommate moved in, Taylor is annoyed by Missy's messiness and her endless string of new lovers. But when Missy brings home a new woman, Taylor realizes there may be other feelings lurking there. When Taylor ends up kissing her roommate, she questions what her new feelings mean and whether she's willing to go further with Missy.
This 6500 word sexy short story includes bicurious lesbian sex, first time lesbian sex, oral sex (cunnilingus), and fingering.
Excerpt
Missy popped another orange segment in her mouth. "I saw you watching me and Jes."

I froze, cringing inside, wishing we could just go on and pretend that I hadn't seen her and wishing that Missy could be just a little more private with her relationships.

"There's no shame in that. You should own it. Some people like to watch."

I spun back around, my hands balling into fists. "I wasn't watching. You were—you were doing it in the middle of the Green. Everyone could see."

Missy took a step toward me, sliding another orange segment between her lips, licking the lingering juice off her finger. "You don't have to be bashful about it. I've seen the way you look at me." Missy held out a piece of orange, but I shook my head.

"I don't know what you're talking about," I said. "You just—you get off on being some sort of exhibitionist."

Missy shrugged and put the orange in her own mouth. She wore a necklace around her neck, a little pink heart that looked like something a child would wear.

"You shouldn't—don't project your fantasies on me." I crossed my arms over my chest.

She came even closer, just standing half a foot away from me. I could smell the floral of her perfume, the familiar scent that wafted out of the bathroom each morning when she was done showering and dressing. "I don't think," she said, "that I am the one projecting fantasies."

I shook my head, anger coursing through my veins.

"Just be honest with yourself. You'll be so much happier." She laughed, a soft giggle, then reached out and touched my cheek. Her fingers were soft against my skin. I don't think we'd ever actually touched before in the two months we'd lived together.

I pulled away from her hand and she giggled again, giving a half shrug with one of her shoulders. What was she playing at? It's almost as if she… No.

"You can be honest with me." Missy's voice was soft, sincere.

I opened my mouth to respond, then shook my head. "I don't know what you're talking about."

"Yes, you do." She nibbled on her lower lip. She had to be—flirting?

I don't know what happened next. I swear I wasn't the one who made the move, it had to be Missy. But somehow I left that doorway and started kissing her. Missy's lips were soft and responsive, the faint tang of citrus lingering on the tip of her tongue. She dropped the orange peel, which scattered in pieces across the hardwood floor, and cupped my head, deepening our kiss.

Select your favorite retailer to buy and download this story instantly:
Download this story: